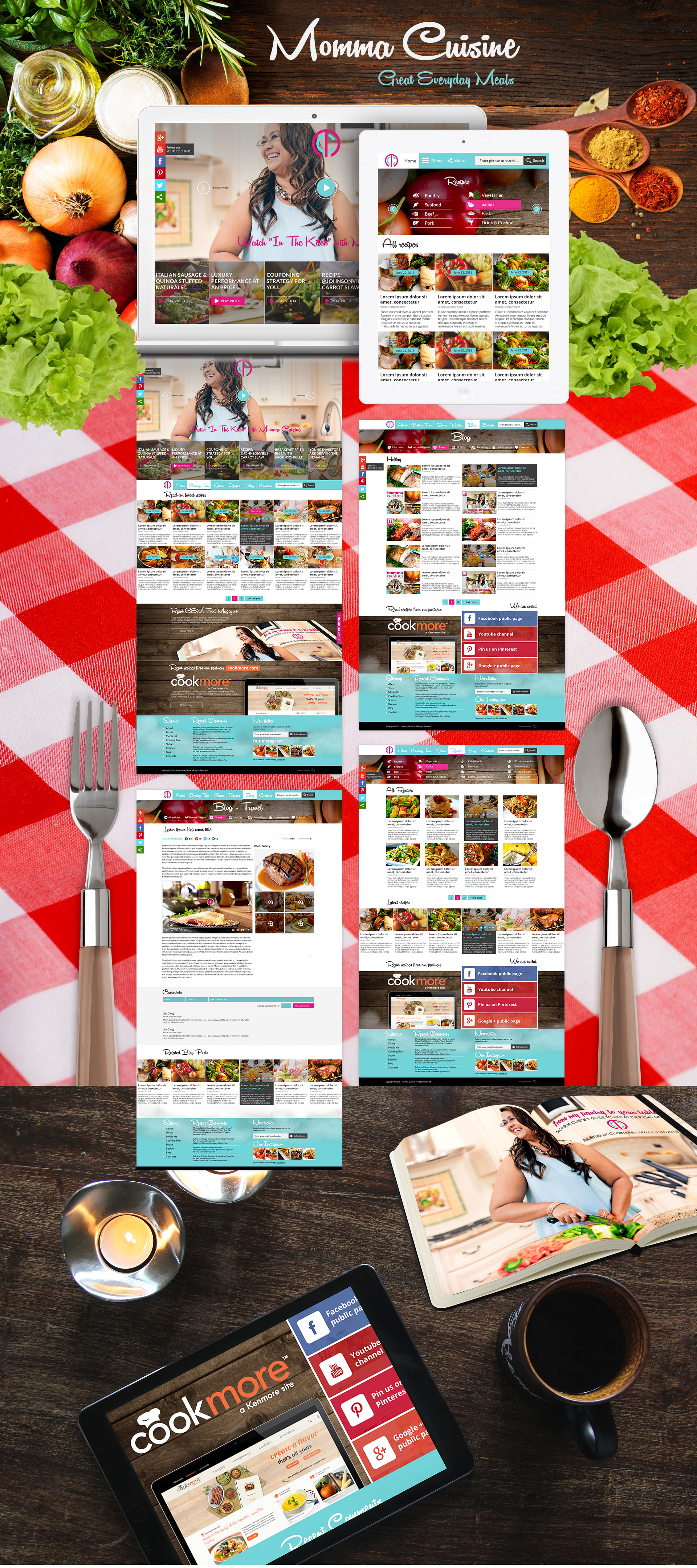 If you are a big fan of fluffy pasties, pies, cream cakes and can't walk past pork stew meat with creamed spinach and potatoes – then you're definitely a foodie. Visit the 'fresh from the oven' website of Johanna M. Cook (Momma Cuisine) – a popular TV cooking personality, digital magazine publisher, executive producer and host. We really enjoyed cooperation with this stunningly beautiful and talented woman, and did our best to create a website representing her love for cooking and energetic spirit. On her website you can easily find recipes of the most mouthwatering dishes, DIY ideas and a handful of tips for staying fighting fit and healthy. Enjoy your meal with Johanna!
The main goals aimed to be achieved while developing mommacuisine.com were a complete website optimization for mobile devices and speed improvement of content loading since the site includes a lot of photos and videos. On top of that, we worked on a convenient information flow, having intuitively divided the content into categories with the appropriate icons for convenience. All graphic design elements such as background images have been pre-optimized to reduce their volume. As a result, we obtained a vivid design with "tasty" photos available on all devices. The website was built with the following technologies: Laravel, MySQL, AngularJS, jQuery, Gulp, SASS.
The new website for Momma Cuisine contains lots of valuable information for those who enjoy cooking at home in a warm family environment. Johanna M. Cook offers authentic recipes based on simple ingredients and cooking techniques allowing anyone to prepare healthy and delicious food for their families. Numerous articles, news, blog posts, shows and interviews are arranged in a convenient website structure for the visitors to instantly find what they are looking for. Moreover, we aimed to create the eye-catching, bright and entertaining design to gain new audiences for Momma Cuisine brand.

http://mommacuisine.com/

R

eady to get started?

Get in touch - call us or request a quote