How To Give Your Old Project a New Lease of Life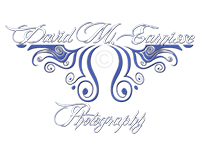 Every designer and artist knows the following to be true......even when you have finished a piece of work or a project, one is always tempted to go back and find room for improvement or make changes ultimately striving for perfection. This is the passion for perfection every artist feels. And, I truly believe that's a beautiful thing. This passion is what drives the ever-present and endless blossoming of beauty.
With this being said, this is what I love the most about our Ukietech creative team, I love our passion for perfection and wrk ethic. We are always motivated and internally driven to make, design and build everything better, "cleaner", clearer and more beautiful. The following is just one example of of our passion for perfection.

In one of our projects, Ukietech creative team created a website for David Earnisse, a talented Chicago photographer and an existing client. The website was designed to showcase David's unique personality and his beautiful and original art, with the goal of promoting and selling his photography and services.

David is one of those people who always strives for excellence. So this year he decided to do a little website make-over and "home" improvement, if you will. After our traditional brainstorming session, it was decided that we would create a new and improved Portfolio page. This goal of this Portfolio page is to showcase and represent David's unique style and exquisite sense of style.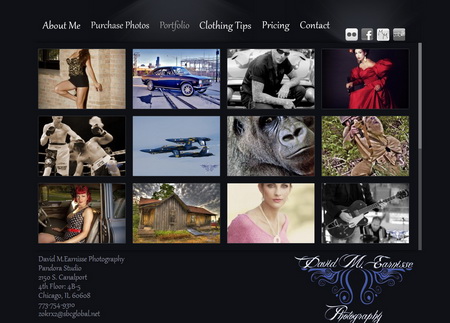 The Portfolio gallery opens with an inner scroll. Each photo appears in a stylish dark blue (color site) Fancybox. Review buttons (forward, backward, number and back-to-thumbnails) were located below the photos. All the interactive buttons get highlighted by prompts on mouse overs making the viewing and review very convenient. Special intuitive operating icons appear on a hover too. Now you too can enjoy this wonderful portfolio of David's at www.dme-photos.com. I'd spellbinding, huh;)?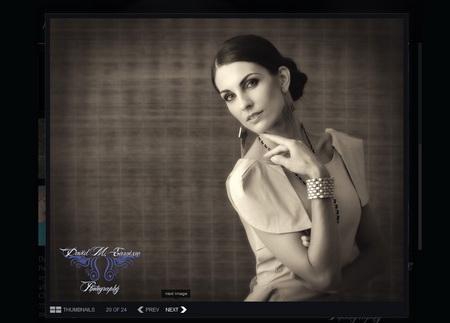 In conclusion, here's my tip
Keep the passion and always strive for perfection. There is always room for improvement, even in past projects and completed design or artwork. This is the only way to achieve great results :).